Great leaders transform workplaces.
Empowered HR departments redefine their team's relationship with work. Because a career ≠ struggle.
You're confident that human resources can transform workplaces. But lately you're losing momentum and not sure how to create real change.
You're worn out. And sometimes you're not even sure if you're in the right field anymore.
Regain your confidence and reclaim the possibilities with one-on-one career coaching.
Let's start a movement.
Create a Sense of Purpose
Skip the endless hours wondering and wishing for things to get better.
Satisfaction. Inspiration. And motivation.
They're all waiting for you on the other side. It starts here.
Mindset
Shift to a positive, productive mindset. Quiet the inner voice that questions so you can move forward. Clarity and focus are easier to obtain than you think.
Message
Develop the executive presence and confidence you need to claim your seat at the leadership table and advocate for meaningful change.
Time Management
Get clear on your priorities and lock in a schedule that ensures you make progress on the things that matter most to you, your team, and your shared progress.
Want regular HR + leadership inspo delivered to your inbox?
Hi there,

I'm Robin!
I am a creative problem-solver hell-bent on helping others get the results they want in life and work.
As a strategy consultant and executive coach, I enter every engagement with resourcefulness, tenacity, and a can-do attitude. I thrive in chaos. I scan for patterns, make connections, and design the way forward.
Over the past two decades supporting clients in government and private business, I have consulted with variety of people and organizations looking to improve their effectiveness, up their impact, and get more done.
From the interpersonal aspects of work to analytical and technical tasks, I help clients clarify what is not working, what is missing, and what is next in their business.
MORE ABOUT ME
My mission is to help HR professionals transform their relationship to work.
For more than 20 years, I've been helping hundreds of individuals and teams find more fulfillment and connection in their careers.
Utilities Technology Council
You're

three steps

away from transforming the way you work—and the environment around you.
No more just getting by. You can thrive and help your team do the same.
1.

Get coaching and training
What do you want most and why?
Get coaching to identify your goals and clarify the path to fulfilling work for yourself and those around you.
2.

Get accountability
How quickly do you want to see change?
Once you set your goals, we help hold you accountable to what you want for yourself and your team. Progress happens more quickly when someone is sharing your excitement.
3.

Get action plans in place
How and when are you going to get there?
We work closely with you to plan (and deliver) high-quality engagement and training sessions to up involvement, loyalty, and leadership skill.

"I've changed my relationship with my work- for the better. I can't believe it-- I didn't think that was possible after working so hard in a difficult environment for so many years."
Dan D.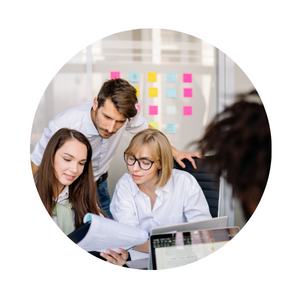 "I'm more committed to my job search. I was waffling because I was afraid of regret. Now I better know what I want in my next role and am ready to double down on my search."
Megan P.
Change is possible.
Work can be different.
And you hold the power to make a difference.

[Let's get started.]