Leadership Training and Coaching
For leaders who value investing in their people and culture
Empowered executives radically transform workplaces. Gain satisfaction, fulfillment, and a sense of purpose—and help your team do the same.
BOOK A FREE CONSULTATION CALL
The Path to Lasting Change and Honest-to-God Fulfillment
Here's how it works:
Book a Consultation Call
We'll talk through the change you want to facilitate. It's your (totally free!) first step to change.
BOOK IT HERE
Training and Coaching
I'll tailor a program unique to your organization's needs that helps get more done and show up as a leader-- without working around the clock.
Implementation
Clear hurdles, master communication, and prioritize. I'll help you implement organizational change and professional growth strategies.
Hi there,

I'm Robin!
I am a creative problem-solver hell-bent on helping others get the results they want in life and work.
As a leadership development trainer and coach, I show up for every client with a listening ear, a spirit of resourcefulness, and a can-do attitude.
I make connections, identify patterns, and work with you to design the way forward. I'll give you a push when you need it, accountability when things get tough, and actionable steps to keep you on-track for the long haul.
For two decades, I've been empowering clients in government, NGOs, and private business. I have helped hundreds of folks get more done, up their impact, and step into the role of bonafide leader.
My greatest joy is seeing others own their power, embrace change, and move confidently toward their vision.
LEARN MORE ABOUT ME
"I've changed my relationship with my work- for the better. I can't believe it-- I didn't think that was possible after working so hard in a difficult environment for so many years."
Dan D.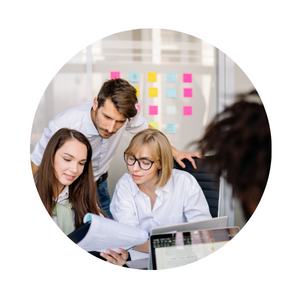 "I'm more committed to my job search. I was waffling because I was afraid of regret. Now I better know what I want in my next role and am ready to double down on my search."
Megan P.