Talent 

Transformation
Helping you turn the people you have into the leaders you need with...
Workshops, coaching, and done-for-you training and employee engagement content.
When you create leaders in your business- regardless of role and title- there are no limits to your growth.
The Talent Transformation was built on the idea that the 'rising tide lifts all boats.' This program helps small business owners develop leaders from within by training employees to confidently take more initiative, address challenges, communicate effectively, and perform at their best.
Assess
Comprehensive assessments to identify strengths and leadership potential and plan areas for improvement allowing for targeted development training and workshops.
Interactive facilitated workshops (or done-for-you content) that encourages practical application of leadership concepts and skill development.
Access to resources and experienced leadership coaches who provide guidance, support, and feedback to individuals at every step of their development journey.
Hi there,

I'm Robin!
I am a creative problem-solver hell-bent on helping others get the results they want in life and work.
As a leadership development trainer and coach, I show up for every client with a listening ear, a spirit of resourcefulness, and a can-do attitude.
I make connections, identify patterns, and work with you to design the way forward. I'll give you a push when you need it, accountability when things get tough, and actionable steps to keep you on-track for the long haul.
For two decades, I've been empowering clients in government, NGOs, and private business. I have helped hundreds of folks get more done, up their impact, and step into the role of bonafide leader.
My greatest joy is seeing others own their power, embrace change, and move confidently toward their vision.
LEARN MORE ABOUT ME
"I've changed my relationship with my work- for the better. I can't believe it-- I didn't think that was possible after working so hard in a difficult environment for so many years."
Dan D.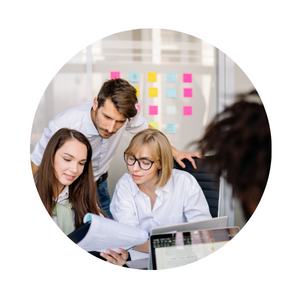 "I'm more committed to my job search. I was waffling because I was afraid of regret. Now I better know what I want in my next role and am ready to double down on my search."
Megan P.